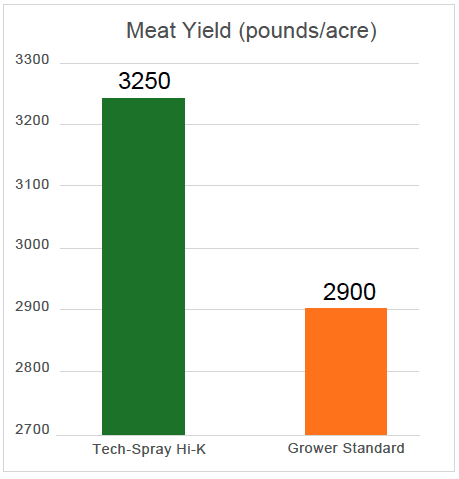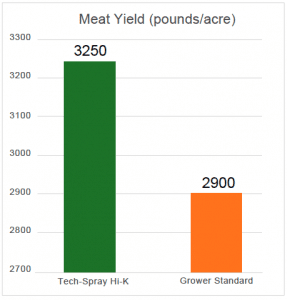 TECH-SPRAY® Hi-K 0-26-28 works like no other foliar potassium product on the market when you need to improve Almond size. We use a state-of-the-art proprietary process to create a unique chemical reaction when combining potassium and phosphate.  This provides synergistic advantages above and beyond any other foliar potassium product.
During nut fill, TECH-SPRAY Hi-K allows almond growers to increase kernel size and increase yield, improving your bottom line.
Improve Almond Size = Improved ROI
The results are bigger nuts, higher yield, and a great ROI.  Safe at rates up to 4 quarts per acre, TECH-SPRAY Hi-K works on most crops where uniform maturity and fruit quality matter.  Download Almond Hi-K Size Trial or watch the Hi-K video
For more information about how to swap out your current foliar potassium for TECH-SPRAY Hi-K, contact us or your local fertilizer dealer like Del Don Chemicals, Nutrien Ag Services, Simplot Grower Solutions, GAR Bennett, or search for your nearest dealer here.
Every product we make was built on the same belief.  That growers deserve products that work.  That, when designed right, foliar nutrients should be safe at rates high enough to make a noticeable difference.  When quality matters, call Nutrient TECH.