By Robin Siktberg
Custom Content Editor, Meister Media Worldwide
If you grow apples, you know getting enough calcium into the trees early in the season makes a big difference at harvest. Calcium (Ca) is one of the most important minerals that impact fruit quality. It's not just important in apples – it's needed for cell division and cell wall structure in all fruits. But it is particularly important in apples, because they are often stored for long periods; without adequate calcium, the fruit will deteriorate. In apples susceptible to bitter pit, such as Honeycrisp, inadequate calcium can result in significant loss of fruit in storage.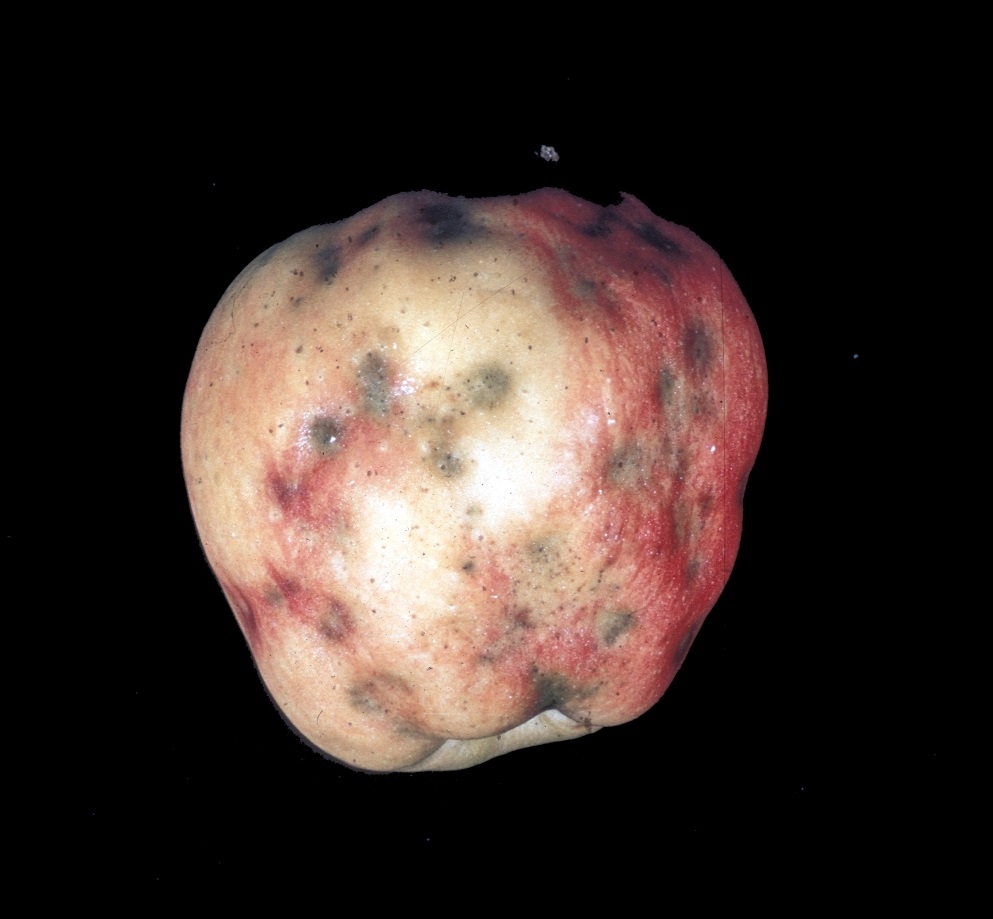 "Calcium nutrition is essential for good apple quality," says Michael Ruttan, Territory Sales Manager for the Pacific Northwest at Nutrient TECH. "We tell growers early-season calcium nutrition sets a solid foundation for fruit development. A good supply of calcium maintains cell wall strength, keeps fruit firm and increases storage life."
Ruttan recommends a foliar spray containing calcium at pink bud, at petal fall, and another at first cover.
"During the second half of the season, the goal is to supplement and maintain calcium levels established in the spring. Typically for apples, we recommend incorporating calcium into cover sprays at 14- to 21-day intervals until harvest. For Honeycrisp or other bitter-pit-susceptible varieties, after those initial three applications, we recommend weekly applications from first cover to harvest."
Tank-Mix Compatibility Makes Calcium Applications Easier
TECH-GRO® Mira-Cal™ 30% Calcium is Nutrient TECH' solution.
"Mira-Cal is a 100-percent water-soluble calcium source, and it has the highest concentration of chloride-free calcium of any product on the market today," Ruttan says. "Because it is chloride free, and doesn't contain nitrates, sulphates, or phosphates, it is a very safe tank-mix partner. Mira-Cal isn't corrosive, and it's compatible with other nutritional and crop protection products – even spray oils. That safety and compatibility opens up new opportunities for calcium application."
The TECH-GRO product line includes highly concentrated dry plant nutrients designed for bulk spray or soil application. Products are formulated with POLYSORBYGEN™, which improves dispersion and wetting characteristics and absorption and use by the plants.
Mira-Cal has stood the test of time. Growers tell Ruttan they like it for the compatibility and flexibility it offers. In addition, studies show Mira-Cal reduces the incidence of bitter pit in highly susceptible apple varieties – in particular, Honeycrisp.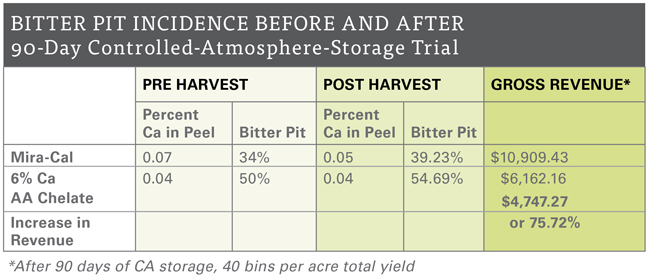 In a study evaluating the incidence of bitter pit in Honeycrisp apples in controlled-atmosphere (CA) storage, apples from plots treated with Mira-Cal throughout the season showed significantly less bitter pit when compared with apples treated with an amino-acid calcium source.
"We chose blocks with a history of intense bitter pit problems," Ruttan says. "The goal was not to solve the bitter pit issue, but to look at new calcium materials and see how they performed under the same conditions."
Both plots were managed the same way, except Mira-Cal was applied five times on one half of the block, and amino acid calcium was applied five times on the other half of the block. The fruit was evaluated at harvest and again after 90 days CA storage.
At harvest, 34% of the Mira-Cal-treated fruit had bitter pit and the 50% of the fruit treated with amino acid calcium was affected. Ninety days postharvest, it was 39% and 55% respectively.
"The overall incidence of bitter pit of course, is way too high either way, but we weren't trying to control the bitter pit in any other way," Ruttan says. "So obviously, the numbers would be much better using other control methods and cultural practices. We just wanted to see the results of the Mira-Cal by itself."
The ROI is convincing. In this study, based on 40 bins per acre yield after 90 days in storage, Mira-Cal returned an additional 75% in revenue to the grower compared to amino acid calcium source. (see chart)
"Many of the growers we work with use Mira-Cal every year, and they are consistently the top-producing, highest-quality growers," Ruttan says. "Mira-Cal provides an excellent return on investment, and it's equipment friendly, worker friendly and is easily tank mixed and flexible in a spray program. It helps growers produce quality fruit that returns an economic benefit. A win-win."