Welcome to California!  Starting in Aug 2018, you will be seeing small Proposition 65 warning stickers on our liquid fertilizer products sold in the United States.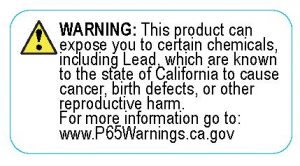 Proposition 65, officially known as the Safe Drinking Water and Toxic Enforcement Act of 1986, was enacted as a ballot initiative in November 1986. The proposition protects the state's drinking water sources from being contaminated with chemicals known to cause cancer, birth defects or other reproductive harm, and requires businesses to inform Californians about exposures to such chemicals.
Proposition 65 requires the state to maintain and update a list of chemicals known to the state to cause cancer or reproductive toxicity.
Proposition 65 and Nutrient TECH Products
While all of our fertilizer products are tested for heavy metals and we fall within the safe guidelines, the standards CA issued to comply with Prop 65 are much lower.  You can look up products the CDFA has tested for heavy metals here.
As a corporate policy, we decided to label all of our fertilizers with a lead warning.  Here's why.
From Wikipedia: Zinc mining is the process by which mineral forms of the metal zinc are extracted from the earth through mining. A zinc mine is a mine that produces zinc metal. Some mines produce primarily zinc, but some mines produce zinc as a side-product of some metal that has a higher concentration in the ore. Most zinc mines produce zinc and lead or zinc and nickel.
Lead is listed on CA's Prop 65 list and since we use mined zinc in many of our blends, it would be impossible for us to know if any lead (or nickel or other naturally occurring Prop 65 chemical) contaminated our supply anywhere in the supply chain.  Since the purpose of the law is to "reasonably inform consumers of the risk" we felt that all products should include the warning:  Our products may contain chemicals, including lead, known to the state of CA to cause cancer, birth defects or other reproductive harm.
Questions?
Questions about Proposition 65? Contact the Proposition 65 office: (916) 445-6900 or email P65.Questions@oehha.ca.gov.
For specific questions regarding Nutrient TECH's products, contact info at techflo.com.