Willie Suhadolnik planted his first grapes in the Yakima Valley with his father at age 7, decades before the region became known for its wineries and quality wines.  He has been dedicated to achieving finished products of quality ever since.
Years ago, Willie started dabbling in Nutrient TECH products on some of his blocks, making up his own sprays programs to react to symptoms he saw.  About 3 years ago his Pinot Gris block was really suffering, so he asked his neighbor how he kept getting such great, consistent results from his vines.  His neighbor suggested he speak to Michael Ruttan.
Michael holds a master's degree in Agronomy and is an expert in foliar feeding and Nutrient TECH' product line.  Michael visited the vineyard and met with Oregon Vineyard Supply fieldman Ron Benitz.  Together, they analyzed soil and whole leaf samples to develop a complete nutrition and fertilizer program aimed at correcting the deficiencies that were affecting the vines.
When they presented the program to Willie, he was not sure he wanted to open his checkbook, but he knew he wanted better results and that what he had been doing was not working.  He saw his neighbors results, so he put his trust into Michael's experienced hands.
Throughout the next year and a half, Michael and Willie spoke every week and a half.  Willie came to know the track's Michael's truck left, as he would stop by and check on the vines more frequently than they spoke.  Whole leaf samples were collected and analyzed periodically to make sure the vines were on the right track and to make adjustments as needed.
The Power of Nutrition in Wine Grapes Revealed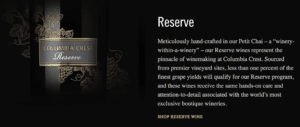 Now that harvest is over, and Suhadolnik's Pinot Gris grapes were selected by Columbia Crest for their prestigious Desiginated Vineyard Reserve label, Willie couldn't be happier.  He was able to achieve the highest quality results, improve the vigor of his vines, and solve some of his growing problems with his nutrition program.
When asked about his key to success this season, Willie noted that using products like TECH-FLO Hi-Mag, TECH-FLO Beta, and TECH-FLO ZMC were important, but nothing was more important than the timely communication he had with Michael.  "Timing is so critical," Willie says, "and it's not a 'blanket' program.  Every farm is treated differently, and attention is paid to every detail, like tissue and soil sample results and what's going in the drip line."
Willie also made sure to note that the pH neutral TECH-FLO formulations made it easy- he could mix them with just about anything- and only needed to make one application.  "Motion costs time and money."
At Nutrient TECH, we are proud of stories like this.  We are proud when wine grape growers receive reserve designation or cherry growers set county records.  We believe in agriculture.  We are passionate about helping growers GROW… grow their crops, grow their profits, grow their businesses…
If you would like to schedule an in-field evaluation or would like to speak directly to one of our territory managers and PCAs, call or email us today.
If you are in the Pacific Northwest and would like to attend one of Michael's upcoming January trainings, contact him directly or stop by booth #125 at the NW Hort Expo Dec 5 -7 for more details.